​​The latest release of the award-winning integrated lighting and media control software introduces two big new features that extend flexibility, speed and efficiency for all lighting programmers.
London, United Kingdom, 11th January 2023 – Avolites, a world leader in the innovation of visual control systems, has unveiled a major new release of its renowned lighting and integrated media control Titan software.  Version 16 has two new main features developed to assist programmers and operators by providing fast access to the data they need.
Freeform Layout view, for example, provides the ability to arrange and select fixtures in a 2D layout either manually, or automatically from the integrated Capture visualiser, streamlining the workflow from design to programming. It provides a visual representation of the current state of the fixtures and is accessed from a new 'Layouts' window and 'Layout' handle type. With this new function, group handles can be included in layouts to further assist fixture selection. Multiple layouts can also be created providing the ability to have more than one arrangement of fixtures or to separate fixtures into specific layouts. The view supports multi-touch gesture controls for zoom and pan.
A new window called 'Cue List Tracking View' provides a way to view and edit the values and tracking of individual fixtures/attributes in a cue list. A 'View Tracking' button has also been added to the Playback View context menu. Selecting this will open the Tracking View window with the associated playback cues. Selecting the 'Select Cue List' option from the Tracking View context menu will open a menu where you can select other cue lists (either via the softkeys or by a cue list handle). The window will remember the last selected cue list when opened and if it is opened without a cue list it will prompt to select one.
Paul Smith, expert creative Lighting Designer/Programmer, who has been instrumental in the development of both the major new features Freeform Layout and Cue List Tracking View comments: "By my own admission, it's the fastest that I can remember of any shows I have programmed, that have gone from Concept to Creation to Opening Night, and that's in no small part, from a Visual Creative perspective at least; down to the work that the Avolites software and support team put in. (Freeform) Layout Views and Tracking Views using Avolites consoles have made a vastly more workable solution than when we first discussed the project". Paul Smith goes on to add "In fact, I've been continuing to use (Titan) v16, beta previews on my concert touring work for the last few months and it's been exceedingly helpful in putting together four new concert productions and really helped me unleash some quite creative programming."
"Avolites always aims to bring to users intuitive and easier to use tools to simplify programming – the release of Titan v16 continues to deliver on this promise," comments Paul Wong, Managing Director, Avolites. "We're pleased to incorporate a new set of time-saving and practical features taken from user feedback. We believe it is very important to listen to what customers want and to provide them with the tools they have asked for."
The upgrade also comes with a raft of new bug fixes (see the release notes for more details) and improvements to the software operating performance, as Avolites continues to take in feedback from customers to develop its software. Previously, for example, fading shapes would result in a non-linear fade. Now shapes fade in linearly.
The speed of various software functions including update, selection and clear has been significantly improved. This is particularly relevant for large numbers of fixtures. Populating the Attribute Editor for instance is now much faster for multi-celled fixtures with large layouts when set to show cells. Assigning masters for the first time is also now much faster, as is adjusting group layout position by wheel.
Other new or improved features in Titan v16 include key profile buttons which now dynamically change their size to ensure the name and actions are all fully visible. Synergy feature set now re-establishes NDI streams when the Synergy Multiview window is moved between console screens, taking only a few seconds.  As well as a new demo show file that show cases all the new features from recent releases.
Titan v16.0 can be downloaded by registered users for free at https://www.avolites.com/downloads
For more information and demo videos visit the following links:
FREEFORM LAYOUT VIEW
Image 1. 
Dedicated Layouts and Layout View Workspaces show the top view of a fixture plot. Fixtures are plotted out in a 2D grid, making their selection faster while programming. In addition, a "mimic" of each fixture is provided to give a visual representation of what fixtures are doing.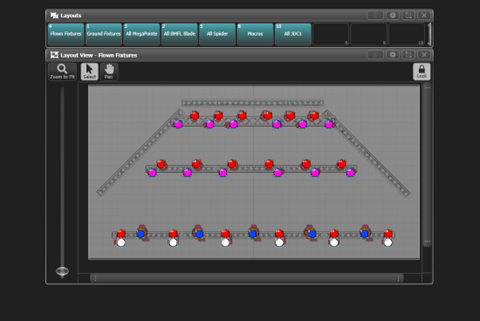 Image 2.
Options for each layout can be changed to set a background image. This allows you to include a plot image from a drawing application to base your layout off. You can also show and hide the grid from the layout options.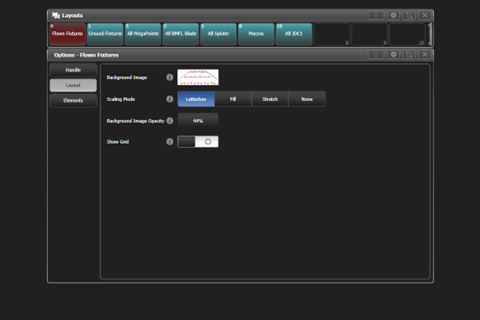 Image 3.
Add groups to the layout in the same manner as fixtures. Adding groups to a layout can be helpful to select multiple fixtures at once.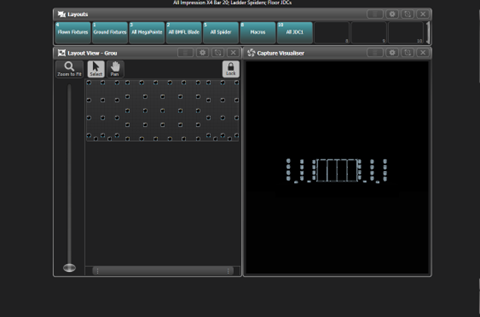 Image 4.
Automatically arrange the fixtures in a layout from their 3D positions in the internal Capture visualiser.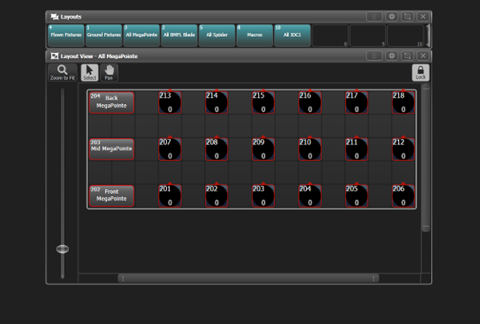 CUE LIST TRACKING VIEW
Images 1 and 2.
Colour coded tracking view that shows:
Equal (yellow): Value which has not changed but is not tracked. This value could be seen as "redundant".
GoingUp (cyan): The intensity is increasing or has increased from the previous cue.
GoingDown (green): The intensity is decreasing or has decreased from the previous cue.
Block (red): The current cue has intensity tracking set to block.
Tracked (magenta): The intensity has been tracked from a previous cue.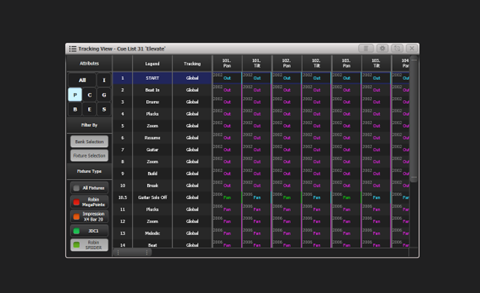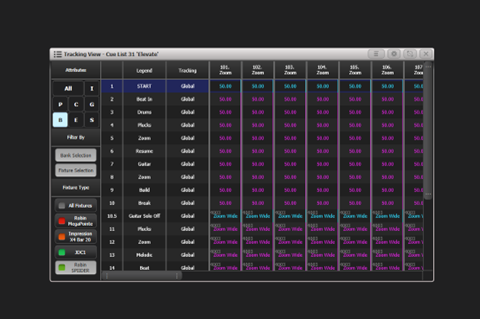 Image 3 and 4.
View attribute values within a cue list and where they are tracked from/to.