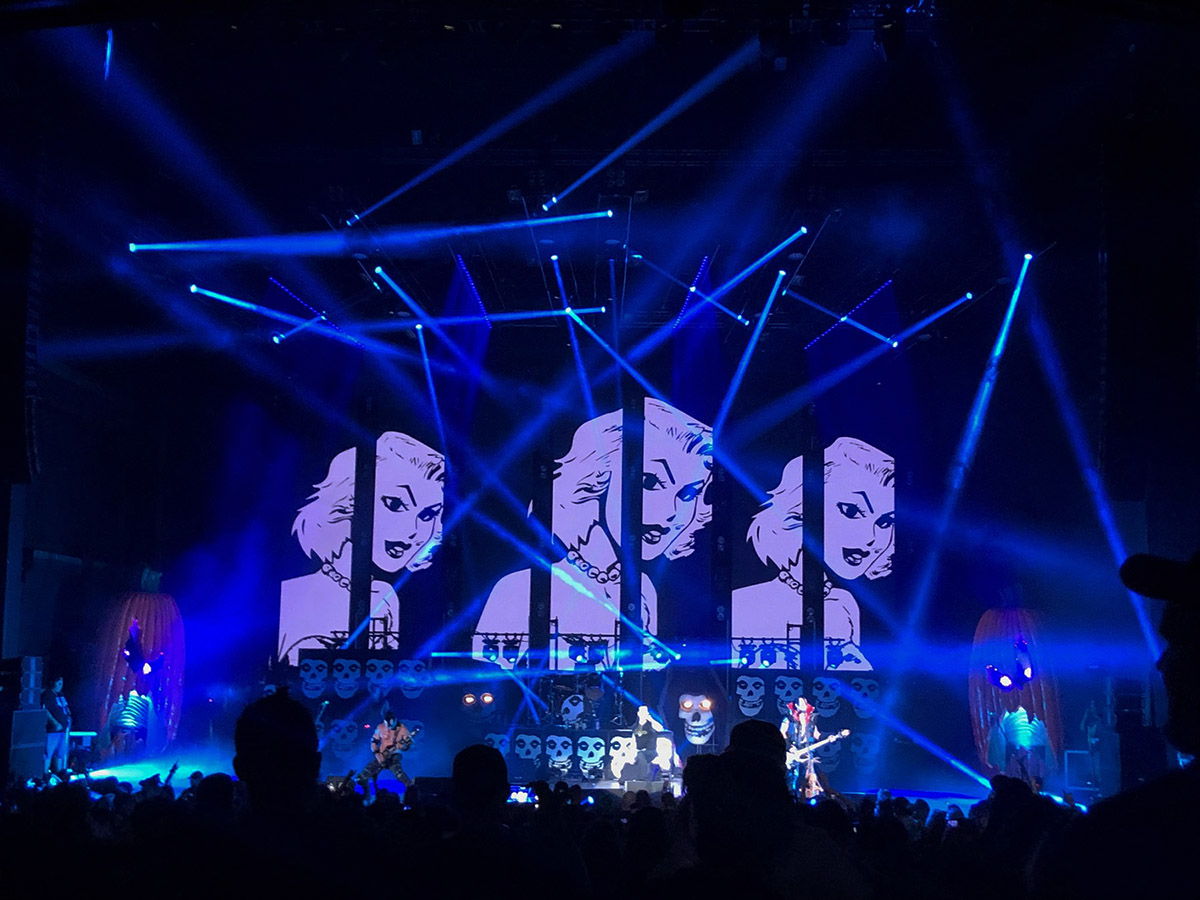 Those fans lucky enough to see horror-punk pioneers Misfits on their sporadic 2019 US tour not only get to see a band that literally invented an entire genre in 1977, they also get to check out a plethora of "rad tricks" from the lighting and video toolbox of Lighting Director Jon Eddy, who is serving up his visual magic on an Avolites Arena console supplied by Delicate Productions.
The term "pioneers" is not an exaggeration. Without Misfits, there would be no Rob Zombie, Korn, Slipknot, or Marilyn Manson. The band literally "wrote the book" when it comes to mixing punk, metal, and '50s rock elements with horror and sci-fi movie themes, and this is the group's first actual tour in decades to feature the classic lineup of vocalist Glenn Danzig, bassist Jerry Only, and guitarist Doyle Wolfgang von Frankenstein.
One of the stops on Misfits' limited tour included headlining Psycho Las Vegas, a three-day music extravaganza held at the Mandalay Bay Resort and Casino, that featured acts ranging widely from Electric Wizard and Opeth to The Crazy World of Arthur Brown, in addition to Lodi, New Jersey's favorite punks. Eddy was the LD for the entire festival, where he not only spec'd the rig and did the overall design but was the console jockey for all of the acts—more than 60 total—who were not touring with their own lighting directors. His lighting desks of choice for the massive task: a matching pair of Avolites Arenas.
"I've been using Avo for a long time and having a console I was intimately familiar with was crucial for a festival with this many acts," Eddy shares. "I actually had two Arenas networked together; the one on the left was my main surface while the one on the right was a backup, and I kept a video page pulled up there to trigger videos that played along with each song."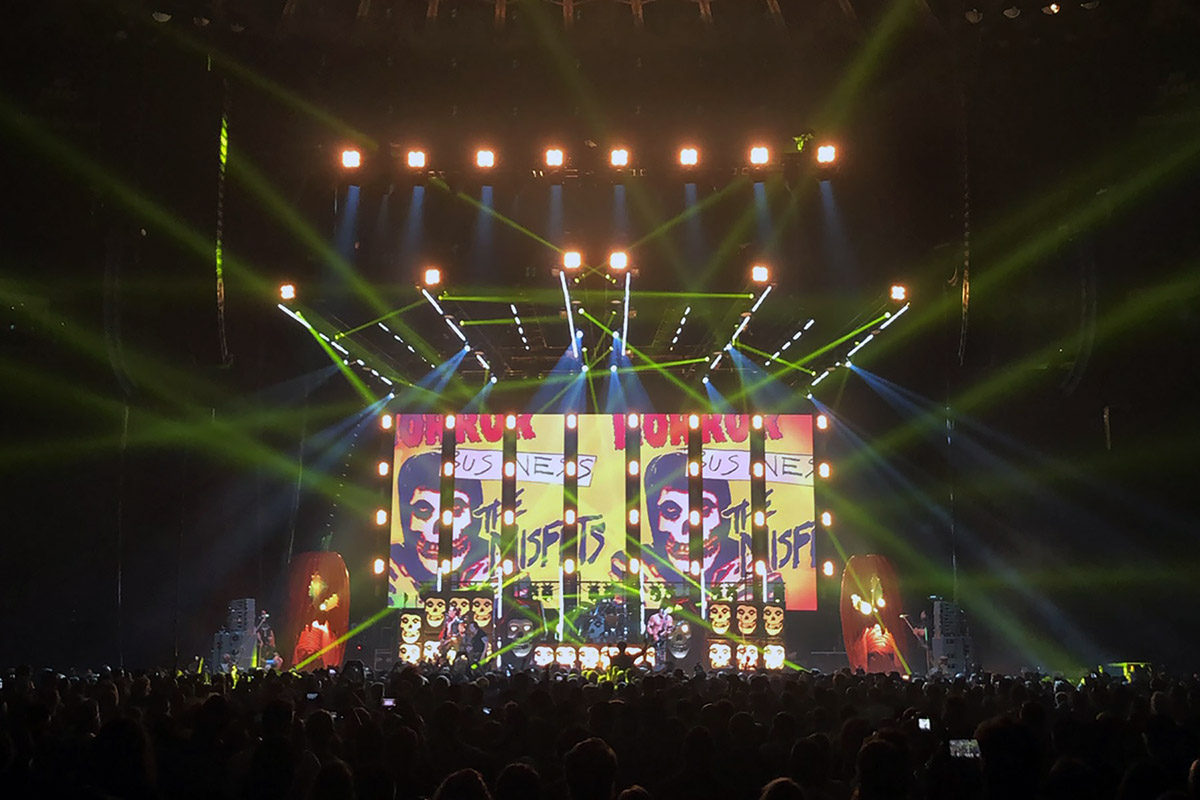 Eddy has been a fixture in the metal and punk worlds for years and has worked with acts including Marilyn Manson, Dropkick Murphys, Lamb of God, and Killswitch Engage. On each of those, Avolites consoles have allowed him to not only light the gig but also exercise his own considerable creativity. "With being the main stage LD for Psycho Las Vegas as well as the headliner LD, I had to set myself up a solid punt page on the Arena to be able to take care of all the other acts with no LD at the festival. It feels like you're playing a musical instrument with the band when you punt on this console. It's a lot of fun!"
While he got to spec the rig and had some time for design on the Vegas festival, that isn't the case on all gigs, and Eddy points to the simple and logical workflow of the Arena as a crucial tool for those shows where set-up time is at a premium. "With the Arena, I can start from a blank show file on an arena-sized rig, and I can walk away in an hour with enough content programmed to operate a killer show or simply make some fixture exchanges and check for any needed adjustments to get dialed in," he explains. Again, being a longtime Avo user has its benefits. "Muscle memory is a cool thing," he adds with a laugh.
When listing off the Arena's functions that he most frequently depends on, Eddy points to a capability that Avolites pioneered. "Keyframe shapes have grown to become one of my favorite features on the console," he says. "I used to watch other guys' shows on other consoles and wonder how they could pull off certain tricky moves. Then I discovered keyframe shapes. The playing field has been more than leveled with programming rad tricks on the fly now."
With most of the Misfits tour dates now behind him, Eddy is already planning, designing, and programming for his next gig with the Arena as LD for the second annual Dia De Los Deftones festival in San Diego, California. While he has been working with the Deftones for years, he's pushing himself—and his Avolites console—to new heights for the 2019 festival in early November. "I'm putting the finishing touches on a completely new production for the Deftones," he enthuses. "This is next-level stuff—completely out of my norm. I'm so excited for the world to see what I've cooked up on the Avo here."
But, before that fest, there is one more Misfits gig on this run in October. "Next is Misfits at Madison Square Garden!" he says excitedly. "This is a complete 'bucket list' show for the band and me. I'm so stoked to do this with my Arena in the arena of New York City."
For details on the current Misfits tour, visit www.misfits.com/tours.html. Delicate Productions can be found online at www.delicate.com.