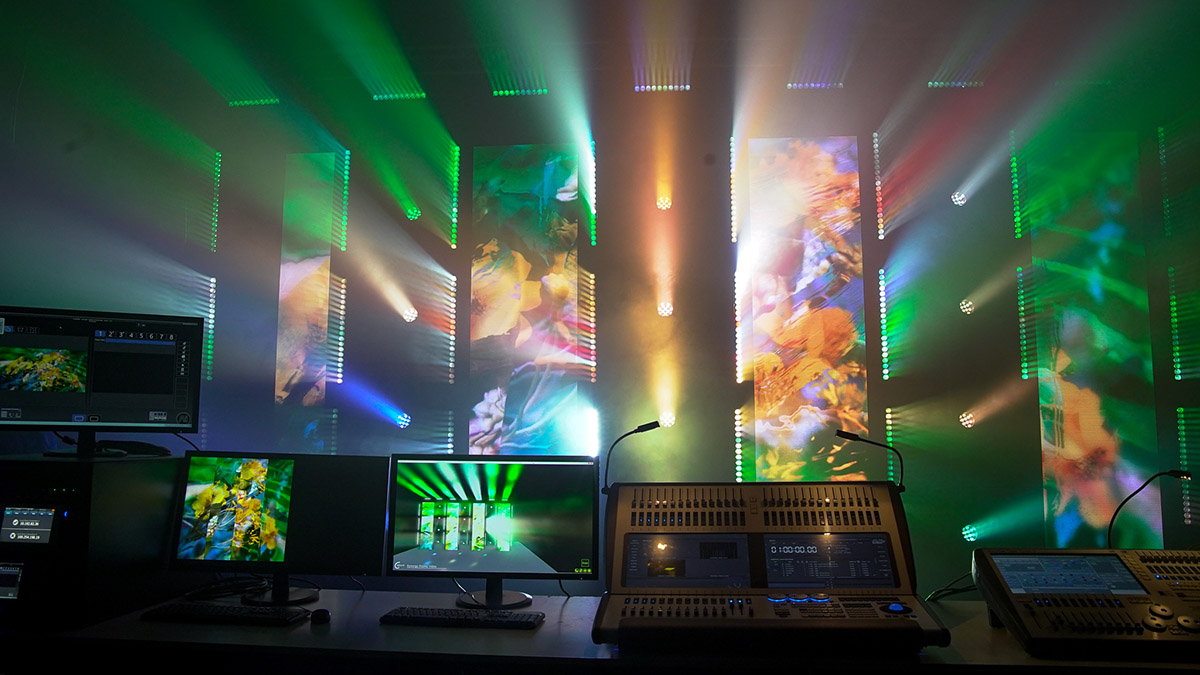 Having already won industry awards and being used on some extremely high-profile projects in its beta stage, Avolites is delighted to announce that its radical new software control system, Synergy, is being released worldwide on Synergy Day, Wednesday 16 October 2019.
Effectively a free V12 software upgrade to both its lighting console and media server ranges, Synergy unites them like never before, allowing lighting designers full visibility and fine control over both the lighting and video components of a truly multi-media performance.
Synergy allows users to quickly and simply pull control of pre-created screen surfaces and layers into a Titan-based lighting console at the touch of a button, or, vice versa, create surfaces in an Ai media server from within the console interface. All operations occur seamlessly using Avolites' proprietary Titan Net protocol and take place on whatever hardware the user is running, from Titan USB interfaces all the way up to the Sapphire Touch console, and from Ai software licences all the way up to the super-powerful Q4 media server.
The creative possibilities for lighting design that are unleashed as a result are endless. The software's new Lightmap feature allows users to stream Ai video colour data through any colour-mixing fixture group, to instantly integrate them into a larger video canvas. As a result, everything from high-res LED screens to LED fixture groups can be controlled from a single intuitive User Interface without the requirement to create and arrange fixtures in the media server or create ArtNet merges. Users can simply select the group and choose Ai in the pixel mapper.
Synergy also allows for live video previews of up to six simultaneous streams from the media server, inside the Titan interface, giving users full control whether the servers are located FOH or elsewhere. These can be either layer previews or screen outputs. And Synergy's media browser allows content to be selected and uploaded to specific locations on connected servers from the console interface. This content then appears on the bank with a thumbnail ready to play as soon as it's uploaded and/or converted to AiM.
"From high profile rock shows to corporate presentations, lighting designers are being asked to increasingly combine lighting and video elements together for maximum impact," commented Stephen Baird-Smith, Sales Manager, Avolites. "As the only company in the industry that has both a lighting console platform and a media server range, we are ideally placed to bring them together into the same interface and are delighted with the new creative possibilities we have already seen realised from the beta program."
The beta version of Synergy has already impressed with work on the last Gary Numan tour, on the Temple Stage at Glastonbury, at September's Hospitality In The Park & Abode which took place at Finsbury Park in London, and has even been used by Everlast Productions in the US to projection map a simulacrum of the White House at a corporate event.
A video showcasing exactly what Synergy is capable of with integrated lighting and video can be seen on the Avolites Youtube, while a new showroom at Avolites in London has been equipped with the latest equipment for potential customers to see hands on just what be achieved with the new software.